Shun Premier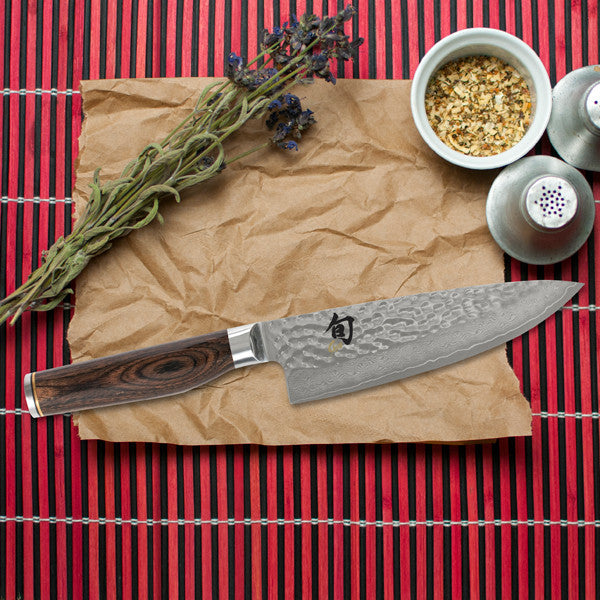 The beautiful Shun Premier line calls to mind the hand-forged knives of ancient Japan and takes more than 100 handcrafted steps to complete. The hammered "tsuchine" finish helps food release from the blade.
• QUALITY FIT & FINISH-To appreciate a quality knife examine the details. You should see no gaps or misalignments in the "fit and finish." With Shun Premier, the handcrafted quality is self-evident.
• AMBIDEXTROUS CONTOURED HANDLES-Larger knives have a slight curve at the bottom of the handle to help them nestle comfortably in either the left or right hand. The embossed end cap adds balance and beauty.
• TSUCHIME FINISH-This traditional Japanese hammering technique adds handcrafted strength and beauty and acts similar to hollow-ground cavities to reduce drag and help food release quickly.
• STAINLESS DAMASCUS CLADDING-Formed of 32 layers (16 each side) of two different stainless steels, Premier's Damascus cladding supports the harder cutting core, adds stain and corrosion resistance, and looks elegant.
• FULL COMPOSITE-TANG-Hidden in the handle, the composite tang add strength and balance.
• WALNUT PAKKAWOOD® HANDLES-Designed for premium applications, PakkaWood is waterproof, incredibly durable, and won't harbor bacteria.
• VG10 CUTTING CORE-This high-end "super steel" enables Shun Premier knives to take an incredible edge. VG10 is tough, rust resistant, and holds its edge longer than other premium steels.
• HAMON-Where the stainless steel cladding meets the VG10 core, a wavy line called a hamon is formed. It is similar to, but not identical with, the hamon formed when tempering samurai swords using a traditional clay-baking technique.
• DOUBLE-BEVEL, FLAT GROUND WITH QUICK TAPER-Provides a durable edge that also helps move food away from the blade quickly.
• THE SHUN-SHARP EDGE-Hand-sharpened to a 16° cutting angle, Shun's razor edge ensures that even delicate foods won't be bruised or torn so ingredients retain maximum flavor and freshness.
Shun Premier