Shun Classic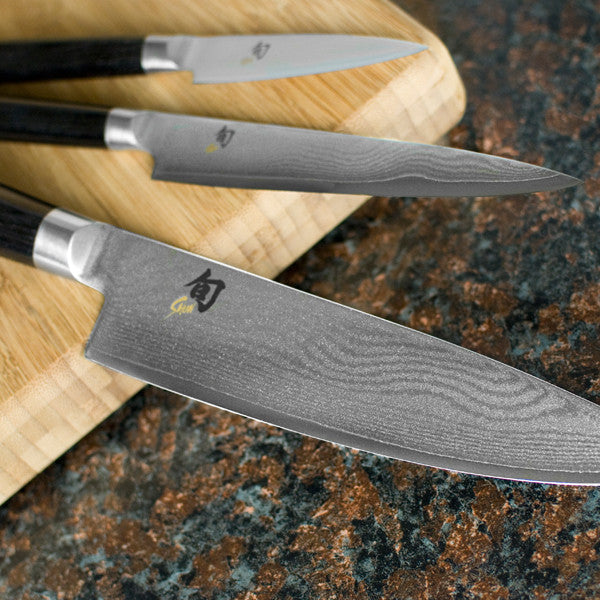 The Shun Classic line offers the widest assortment of both traditional blade shapes and new designs, so you can always find the right knife for the task.
• WIDE SELECTION-The Classic line features our largest selection of traditional and innovative blade shapes.
• QUALITY FIT & FINISH-To appreciate a quality knife examine the details. You should see no gaps or misalignments in the "fit and finish." With Shun Classic, the handcrafted quality is self-evident.
• AWARD WINNING-The knife industry recognized Shun Classic quality from the very start, naming the Shun Classic Hollow- Ground Santoku as the Blade Show's 2003 Kitchen Knife of the Year.
• STAINLESS DAMASCUS CLADDING-Formed of 32 layers (16 each side) of two different stainless steels, Classic's Damascus cladding supports the harder cutting core, adds stain and corrosion resistance, and looks elegant.
• FULL COMPOSITE-TANG-Hidden in the handle, the composite tang add strength and balance.
• D-SHAPED HANDLES-These traditional Japanese-style handles have a slight ridge on the right side, which fits into the curl of the fingers for a comfortable and secure grip. Viewed end-on, the shape resembles the capital letter "D."
• EBONY PAKKAWOOD® HANDLES-Designed for premium applications, PakkaWood is waterproof, incredibly durable, and won't harbor bacteria.
• DOUBLE-BEVEL, FLAT-GROUND BLADE-Provides a durable edge that also helps move food away from the blade quickly.
• THE SHUN-SHARP EDGE-Hand-sharpened to a 16° cutting angle each side, Shun's razor edge ensures ingredients retain maximum fl avor and freshness.
• VG10 CUTTING CORE-This high-end "super steel" is extremely hard, enabling Shun Classic knives to take an incredible edge and hold it longer.
Shun Classic